Description
Buy Cenforce 150Mg Tablets Online
Cenforce 150MG treats male sexual disorders such as impotence or erectile dysfunction. The medicine works by enhancing the blood flow to the penile area of male. This helps them to have a firm and continued erection for a longer time. Longer erection helps men having satisfying and enjoyable sex. Cenforce belongs to phosphodiesterase type 5 (PDE 5) inhibitors family.
You can take this drug with or without food. Follow the guidelines and prescription of your doctor to have a better result. It is recommended to take this medicine at least 30 to 60 minutes before your sexual activity. The medication gets you erection once you have been sexually aroused. Also, the medication won't be effective without sexual stimulation.
Taking Cenforce 150MG with nitrate-based medicines can give chest pain or angina to you. Avoid taking this medicine if you have heart or liver issues, or recently got stroke or heart attack.
Do not drink or smoke if you are taking Cenforce 150MG since it has tendency to increase side effects. Also avoid driving if you have taken this medicine as it might cause dizziness.
Sildenafil citrate is the main ingredient of Cenforce 150MG Tablet and works by suppressing phosphodiesterase type-5 action, a chemical present naturally in the penis. The chemical helps in relaxing the blood vessels and this it gets widened. The volume of blood flowing through the penile region increases. This mechanism helps men develop and continue a strong erection.
What is the use of Cenforce 150Mg Tablet?
Cenforce is a trusted medicine for the treatment of erectile dysfunction in men. Erectile dysfunction or ED is a sexual disorder in men stopping them to have a firm erection for sex.
Since this medication acts as a PDE 5 inhibitor, it inhibits the enzyme that tempt flaccidity in the penis. It improves the blood flow in the area of penis by relaxing blood vessels.
Dosage
The dose of this medicine will depend on the health conditions, age, and medical history of the patient. Follow your doctor's prescription and read the prescription carefully.
For oral administration (tablets):
Men up to 65 years of age can take administer this medication once a day, 1 hour before sex. The effect of the medicine remains for 4 to 6 hours. If needed your doctor may change your doses seeing your improvement.
How to Use?
Take this medicine as prescribed by your doctor. You can take it with water before 30 minutes of sex.
Frequently Asked Questions (FAQs) About Cenforce 150mg
Q1: What is Cenforce 150mg?
A1: Cenforce 150mg is a medication that contains sildenafil citrate as its active ingredient. It is primarily used to treat erectile dysfunction (ED), a condition where a man has difficulty achieving or maintaining an erection during sexual activity.
Q2: How does Cenforce 150mg work?
A2: Cenforce 150mg helps increase blood flow to the penis when a man is sexually aroused. It does this by inhibiting an enzyme called phosphodiesterase type 5 (PDE5), which helps the blood vessels in the penis relax and dilate. This allows for improved blood flow and the ability to achieve and sustain an erection.
Q3: How should I take Cenforce 150mg?
A3: Typically, Cenforce 150mg is taken orally with a full glass of water approximately 30-60 minutes before sexual activity. It's important not to exceed the recommended dosage or take it more frequently than once a day. Always follow the dosing instructions provided by your healthcare provider.
Q4: How long does the effect of Cenforce 150mg last?
A4: The effects of Cenforce 150mg can last for around 4-6 hours. However, it's crucial to note that the medication does not automatically induce an erection; sexual arousal and stimulation are still necessary to achieve an erection during this period.
Q5: What should I do if Cenforce 150mg doesn't work for me?
A5: If Cenforce 150mg is ineffective for you, it's advisable to consult your healthcare provider. They can help identify the underlying cause of your ED and may recommend alternative treatments or adjustments to your current treatment plan.
Q6: Are there any side effects of Cenforce 150mg?
A6: Like all medications, Cenforce 150mg can have side effects. Common side effects may include headache, dizziness, facial flushing, upset stomach, nasal congestion, or changes in vision. If you experience severe or prolonged side effects, seek medical attention promptly.
Q7: Can I take Cenforce 150mg with alcohol or certain foods?
A7: It's generally advisable to limit alcohol consumption while taking Cenforce 150mg, as excessive alcohol can increase the risk of side effects. Additionally, high-fat meals may delay the onset of the medication's effect, so it's often recommended to take it on an empty stomach or with a light meal.
Q8: Is a prescription required for Cenforce 150mg?
A8: Yes, Cenforce 150mg is a prescription medication. It should only be used under the guidance of a healthcare provider who can assess your suitability for the medication based on your medical history and overall health.
Q9: Can I buy Cenforce 150mg online?
A9: You should only purchase Cenforce 150mg from reputable and licensed online pharmacies with a valid prescription. Beware of counterfeit or unregulated sources, as these can be unsafe and ineffective.
Q10: What should I do if I accidentally take more than the recommended dose of Cenforce 150mg?
A10: If you accidentally take more than the prescribed dose of Cenforce 150mg or experience severe side effects, seek immediate medical attention. Adhering to the recommended dosage is essential to minimize the risk of adverse effects.
Summary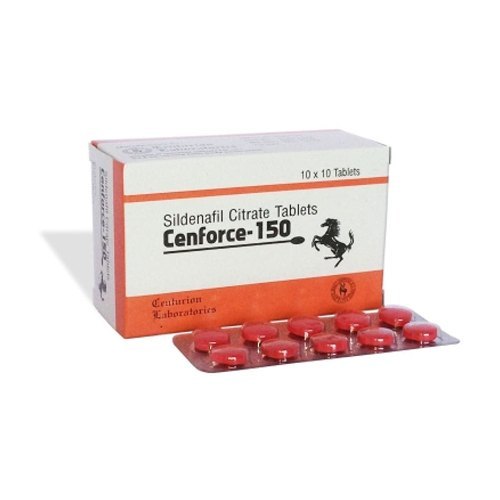 Author Rating





Brand Name
Product Name
Price
Product Availability