Description
Buy MODALERT 100MG Online
MODALERT 100MG (Modafinil) is taken to treat excessive daytime sleepiness (narcolepsy). The medicine helps improve wakefulness and enables patients to keep awake and minimizes the tendency to sleep during the day as it helps reform normal sleep cycle.
Modalert can be administered with or without food. It is recommended to take this medication at a fixed every night before going to bed to maintain a consistent level in the blood. In case you forgot to take any dose, take it as soon as you remember it. It is advised not to skip any doses and finish the full course of treatment even if you are in a better health condition. You should not stop this medicine suddenly as it may worsen your symptoms.
Some common side effects of MODALERT 100MG (Modafinil) can be nervousness, anxiety, headache, nausea, and insomnia (difficulty sleeping). You may also get indigestion, back pain, diarrhea, and a runny nose. But these side effects remain temporary and generally gets resolved on their own in some time. In any condition, if you don't see these side effects subsiding, inform your doctor. This medication leads to sleepiness and dizziness, so avoid driving or doing anything that needs mental focus until you know how this medication impacts you.
Uses of Modalert 100Mg Tablet
Narcolepsy (Excessive daytime sleepiness)
Benefits of Modalert 100Mg Tablet
In Narcolepsy (Excessive daytime sleepiness)
The patient may get sleep paralysis, excessive sleepiness, hallucinations, and sometimes cataplexy in which patient gets partial or total loss of muscle control. MODALERT 100MG (Modafinil) stimulates the nerves of the brain and keeps the patient fully awake. This medicine is helpful in restoring establishing normal sleeping habits and you can enjoy quality life.
Side Effects of MODALERT 100MG (Modafinil)
Most side effects do not need any medical help and vanish as your body adjusts to the medication. Meet your doctor if they continue or if you find them worrying-
Common side effects of Modalert 100mg

Headache
Insomnia (sleeping difficulties)
Indigestion
Nausea
Nervousness
Anxiety
Dizziness
Diarrhea
Back pain
Runny nose
How To Use Modalert 100mg Tablet?
Administer this medication in the dose and duration as prescribed by your doctor. Consume it as a whole. Do not crush, chew or break it. Modalert 100 mg tablet may be consumed with or without food, but it would be good to take it at a fixed time.
How Modalert 100mg Tablet Works?
Modalert 100 mg tablet modulates the levels of chemicals in the brain and releases a stimulant effect to minimize extreme sleepiness.
Summary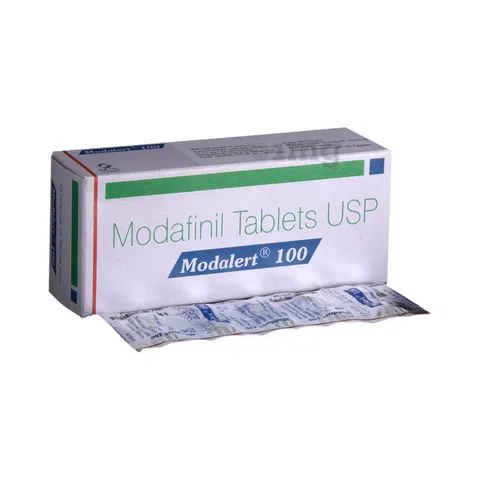 Author Rating





Product Name
Price
Product Availability