Description
PAIN O SOMA 500MG
PAIN O SOMA 500MG contains carisoprodol which works as a muscle relaxant and blocks pain sensations between the brain and the nerves. The medication is used along with physical therapy and rest as advised by the doctor. Your doctor may recommend a short-term treatment medicine for up to two or three weeks.
How to take Pain O Soma 500 mg Tablet?
Take Pain-O-Soma 500mg as prescribed by your doctor.
Since this medicine is known for habit forming, avoid misusing it as it can lead to addiction, overdose, or death.
In general, the medicine is taken 3 times every day and when you are about to sleep. For better results, follow the doctor's dosing instructions carefully.
Your doctor will prescribe this medicine only for 2 or 3 weeks. Infor your doctor if you don't see any improvement in your health conditions.
Warnings
You should not take this medicine if you have porphyria or you are allergic to meprobamate or carisoprodol. Follow the prescription label of your doctor and take the medicine as directed by your doctor only as this drug could be habit forming. Avoid sharing PAIN O SOMA 500MG with other people even if they have severe muscle pain. Misuse of the medicine may lead to addiction and even death.
Stay alert while driving or working when you have taken this medicine as it may affect your awakening. Do not consume alcohol when you are on this drug. The medication can increase drowsiness and dizziness.
Before taking PAIN O SOMA 500MG Tablet-
If you are allergic to the medicine's ingredients, or if you have Porphyria, you should avoid using this medicine.
Inform your doctor if you have ever got following medical conditions-
liver disease
kidney disease
a seizure.
What happens if you miss a dose?
Take the medicine as soon you remember about missing the dose but avoid taking it if it is near to your next dose. Don't take two doses simultaneously.
What happens if you overdose?
If you have overdosed, get immediate medical help or call your doctor. Overdosing can be fatal, especially if you have consumed it with alcohol or with other medications that can slow breathing.
Side Effects of the drug–
Following changes as side effects of Pain O Soma 500mg tablet may occur-
Cardiovascular
Postural hypotension, Tachycardia, and facial flushing
Central Nervous System
Drowsiness, dizziness, irritability, headache, vertigo, ataxia, syncope, insomnia, and seizures
Summary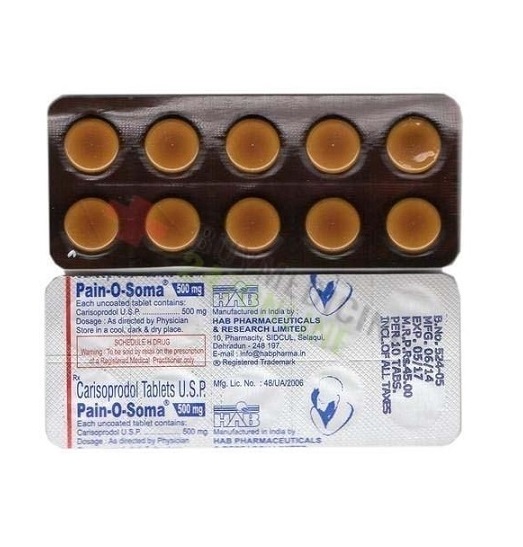 Author Rating





Brand Name
Product Name
Price
Product Availability